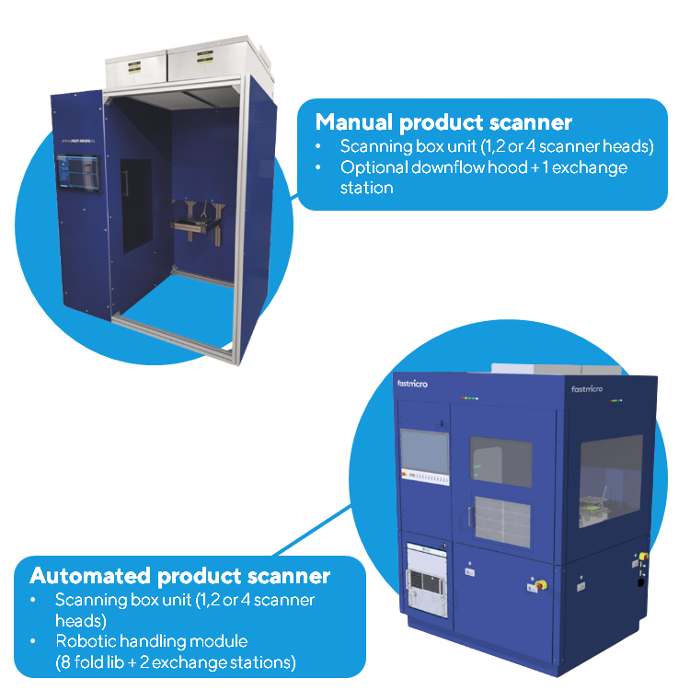 Fastmicro Product Scanner
The Fastmicro Product Scanner has been developed to measure surface particle contamination levels directly on a product's surfaces in any industry. The primary applications are in Semiconductor (pellicles, reticles, wafers) and the display market. The scanner has an unlimited scanning area due to its modular and scalable design.
The system can be customized, depending on the shape and position of the surface that needs to be tested. The scanner module is also available as a white label solution for system integrators.


Modular: fit for each production process
The modular Fastmicro Product Scanner can be customized to suit each production qualification process or to fit into a production line. This can include clean and automated handling: package openers for inspection and cleaning, filling stations, robot arms, an inspection spot and a port for cleaning.
The Fastmicro module allows for a scaled inspection surface to suit customer needs, without introducing extra imaging time and using limited floor space.​

​Applications
The Fastmicro Product Scanner can be used for measurements of:
Pellicles (front and backside)
Reticles, photomasks (backside)
Wafers (backside, blanks, bevels)
3Di (e.g. copper to copper bonding)
Critical parts




Key benefits